WARNING! If you are currently taking or thinking about taking Prescription Hormone Replacement Therapy or Bio-Identical Hormones to overcome Menopause symptoms... this may be the most important letter you will ever read...

"Discover How Women Like You Have Used Alternative Natural Therapies
To Eliminate Menopause Symptoms
And Avoid Taking Dangerous
Hormone Replacement Therapy"
New Jersey New York Naturopath & Clinical
Nutritionist Teaches You How To:
Stop Your Hot Flashes Naturally And Quickly
Stop Your Mood Swings And Night Sweats
Improve Your Bloating, Gas And Water Retention
Take Back Control Of Your Life!
Learn How To Overcame Your Menopause Symptoms Like So Many Of My Other Clients And Eliminate Your Menopause Issues Naturally
Even If Your Medical Doctor Said It's Impossible
Even If You've Tried Prescription Medications
Even If You're In Your 30's or 40's
Even If You Still Have A Menstrual Cycle
Even If You Have Surgical Menopause
Without Resorting To Dangerous Hormone Therapy

Dear Friend,
What if you could easily eliminate your menopause symptoms through all 3 stages including peri-menopause, menopause and post-menopause and do it without taking cancer causing side-effect ridden traditional hormone replacement therapy (HRT) or the unknown risk of bio-identical hormones?
It's not only possible, but I can show you how to sail through menopause without suffering and tell you everything you need to know about Natural Hormone Replacement Therapy – the time tested, science proven, safest and highly effective form of hormone replacement therapy available.
But first let a client of mine tell you about her story…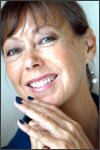 I'm a 56-year-old woman very close to menopause (complete stoppage of my cycle), but I started experiencing some bad symptoms related to peri-menopause at 46.
I was haunted by several menopausal symptoms like bothersome mood swings including crying for no reason, hot flashes during the day where I had to change my clothes, night sweats and wet sheets at night. I had trouble focusing, it felt like I was loosing my memory. I also suffered from gas and bloating that gradually got worse as the day went on and weight gain that wouldn't budge no matter how much I exercised and dieted.
I couldn't take it anymore and I started talking to friends, reading books and searching the internet. Wow, did I learn A LOT.
I discovered what is almost common knowledge now that the very Hormone Replacement Therapy prescriptions doctors have been giving women for years, is now reported to be causing the things it was supposed to prevent: heart attacks, strokes and even cancer.
As soon as I learned those facts I felt scared, hopeless, and not sure what to do. I knew I couldn't live with the symptoms I was feeling. There had to be something that would help.
A few friends mentioned they had been doing bio-identical hormones and getting good results. So, then I started my education of bio-identical hormones and here is what I found…
There is little to no studies showing the risks involved with long term use of bio-identical hormones. Most doctors believe they are safer because they are more closely matched to our own bodies' hormones. But no one knows for sure and if you follow the news, one day a drug is good for you and the next day it can kill you.


WebMD.com states the most important fact to remember about taking bio-identical Hormone Replacement Therapy is that its risks are not yet well understood. It may have the same breast cancer, stroke, blood clot, heart disease, and dementia risks that synthetic Hormone Replacement Therapy has.


Bio-identical hormone replacement therapy presents extra risks due to the compounding. As one doctor I visited said, "maybe your compounding pharmacist doesn't get enough sleep the night before and is a little off formulating the proper dose or maybe his scale is not calibrated right or worse they may have pharmacy assistants doing the job."
Learning everything I did about prescription Hormone Replacement Therapy and Bio-identical hormones just wasn't sitting well with me. Too many unknowns and too many what ifs…
That's when I decided I needed an expert to work with. Someone who worked in the natural healthcare field, enter Dr. Robert Galarowicz ... a Naturopath and Clinical Nutritionist and experienced in helping women suffering with menopausal symptoms.
I luckily found him through an adult education school brochure for my town and he was teaching a class on Natural Hormone Replacement Therapy.
I called him immediately and we spoke and it was really eye opening. He explained to me the entire approach of Natural Hormone Replacement Therapy. I discovered how women can use foods and natural safe supplements to rid their menopausal symptoms with no-long term risks, especially cancer. I researched this on my own and found this approach has been used for over eighty years with medical research to support its safety and effectiveness.
I was excited to say the least and ready to begin working with him…
I am happy to say today, I'm a new woman... no more hot flashes, mood swings or feelings like I'm losing control of my life.
I have tried Dr. Robert's Natural Hormone Therapies and found a comfortable mix that works for me. And, I don't expect to be supplementing these alternatives forever - I can already feel my body not needing them as much.
These days I'm eating healthier than I've ever eaten before. I learned which foods will make my symptoms worse and I avoid them and I learned which foods help me feel better. I realized that I was kidding myself that poor eating habits were not part of my problem.
I can honestly say I'm experiencing greater joy and fulfillment than ever before. The important point to understand is that this phase of life can be beautiful. I am much more at peace and it's easier to live that way..
My memory is improved, but not perfect. I'm still working on that one. But I don't have one single hot flash anymore and the night sweats are completely gone … a thing of the past. My sheets are never soaked when I wake up, I don't cry for no apparent reason any more, and I can enjoy life again.
When I got my hormones under control and in a more "balanced" state, I stopped gaining weight. It feels so wonderful to have my mind and body back to a place where I am comfortable and back to my old self.

At This Point In Your Life Many Women Who Decide To Use Natural Hormone Replacement Therapy Often Try
A Few Approaches But This
Could Be Dangerous …
And here are a couple reasons why ...
Most of the information in books is out of date by the time the book was published and available on the shelves at your local book store or online. It can often take anywhere from 12-24 months for a book to go from research to the shelves, by this time many medical facts and research are already out of date.

While websites had the ability to be more up-to-date, most were not. Research finds that you can go back to numerous sites over a period of 9-12 months and find that nothing changes even though new medical information, research and advice had been published.

Many people will get advice from a "health food store clerk/cashier" or a friend. Studies show this to be a BIG MISTAKE finding 80% of recommendations to not be supported by science and people reporting SIDE EFFECTS (see my blog for the studies). Also, your body has a unique biochemistry and you may be taking prescription medication that can be a bad mix.
Menopause Is Not A Death Sentence!
I hope you are beginning to get the idea that menopause isn't a death sentence. It CAN be survived and you can actually FLOURISH during these years despite the dozens of life-changing challenges.
Here are some of the improvements you will have with Natural Hormone Replacement Therapy ...
Discover what you must do to stop annoying hot flashes and night sweats

Manage the annoying symptoms that accompany menopause

The role your adrenal gland plays and how to support it to conquer menopause

The one supplement you can take that will stabilize your mood and allow you to feel happiness again

Have smooth digestion … not having to deal with any gas and bloating again

Recommendations for removing fatigue and low energy and being able to "sleep like a baby."
Discover how to "rev-up" that low libido and reduce dryness.

How to stay healthy during menopause by eating appropriately and exercising the right way for your body.
Exactly what supplements and/or herbal remedies you should be considering during this time.

Are you beginning to see that by choosing Natural Hormone Replacement Therapy you will look and feel so much better without worry of long term side-effects because nothing is left to chance.
My natural hormone service will give you everything you need to know about supplements, herbs and other natural alternative approaches so you can get a handle on your menopause symptoms ... right away!
Let my services be your secret weapon to stopping menopause symptoms. I want you to be successful and YOU WILL, because your success is my success. I know after 10 – 14 days working with me you will be telling all your friends and family about how much better you feel.
There you have it... Natural Hormone Replacement is a better, safer, and easier way to improve and protect your health when you're going through the menopausal years.
Now that you know the facts its time to make the right decision and invest in yourself – your health and your future.
Working with me you'll take a noticeable step forward in your overall health and well being and stop suffering with "Menopause Madness."
Imagine your life without hot flashes... worry...mood swings...or any menopause symptoms. Isn't your wellness, peace of mind, and health worth it?
We'll do this together but you should contact me as soon as you can. My schedule often gets filled weeks in advance.
All you have to do is contact me by calling 201.618.3534 and leave a message if I don't answer. I will return your call within 48 hours or you can email me at Rob@DrRobertG.com or CLICK HERE to be taken to my contact page to fill out a form to be sent to me.
Kind Regards,



Robert Galarowicz N.D.
P.S. Just imagine in as little as a few weeks you could solve your Menopause problems... for good with 75 year old Natural Hormone Therapies that have made it through the test of time and science.